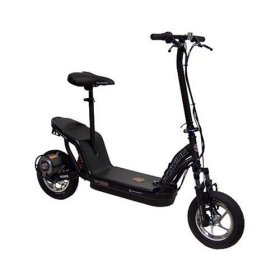 Specifications
TOP SPEED: 15 mph (24 kph) (rider weight and terrain contingent).
RANGE: 12 miles (19 km) (rider weight and terrain contingent).
MOTOR: 1000W of power from a Finned Hi-Torque DC Neodymium Magnet S1000 Electric Scooter Motor.
BATTERY: EV Rated SLA Type, Plug and Play Design, 36V / 10AH Pack, (3) 12V / 10AH Valve regulated, rechargeable.
CHARGE SYSTEM: UL Listed Currie Smart Charger, LED charge status display.
CONTROLLER: Exclusive Currie PWM Smart Power Microprocessor 36 Volt 25 Amp fully potted, with auto shut-off, relay protection, diagnostics and fuel gauge.
DRIVE: Patented Currie Electro Drive - Direct Chain Drive.
BRAKES: Front and Rear Disc Brakes with Alloy Brake Inhibit Lever.
WHEELS: Currie Exclusive 5-Spoke Alloy wide mag wheels with Disc Brakes.
TIRES: Innova Low Profile Street Slick or Knobby Off-Road Tires 12‰ x 3.0‰.
HANDLEBARS: Exclusive Currie folding design - lay forward bars.
FORK: Alloy Crown Spring/Polymer Front Suspension with Front Disc Brake.
USER CONTROLS: Power On/Off Switch, Power-On bright LED, Easy Access Charger Port in Frame Console.
DECK: Carbon Fiber design ABS Resin with Schwinn Logo Badge.
FRAME: Rear Swing-Arm suspension, High tensile Steel with Integrated Battery Box.
SEAT KIT: Velo Plush Gel Saddle, Height Adjustable Easy on/off Seat Kit Included.
NET WEIGHT: 85 lbs (39 kgs).
MAX WEIGHT: Do Not Exceed 240 lbs (109 kgs).
Battery 36 volts : 3 - 12v7ah batteries