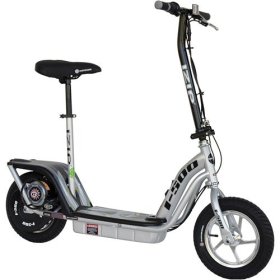 Specifications
Speed: up to15 mph*
Range: up to12 miles*
Motor: Motor: 500 Watt (Rare Earth Magnet) includes motor overheat protection, semi sealed, dust and dirt resistant.
Controller: 24Volt/30Amp Pulse-Width Modulated Microprocessor
Frame: Durable all steel computer welded frame.
Carrying Capacity: 240 lbs
Deck: Extra thick ABS material resists cracking, won't dent, rust or rattle .
Control panel features battery power indicator, power switch and charger port.
Drive System: New Gear drive with built-in free-wheeling clutch for easy coasting
Throttle: Variable speed twist grip with built in led power monitor.
Expected Battery Life: 400+ recharge cycles.
Charger: 1.5 amp smart charger, 110V AC input, self-regulated.Three led lights indicate charge level. UL Approved.
Charging Time: 4-6 hours
Battery Box: Stamped, one piece, steel. Easy Access cover.
Rear Brake: Fully adjustable band
Tires: 12" x 3.25" Quality light electric vehicle tires.
Wheels:, 12" cast aluminum alloy "Mag" wheels.
Scooter Weight: 58 lbs
Battery: 24V, 2 of 12v-12ah