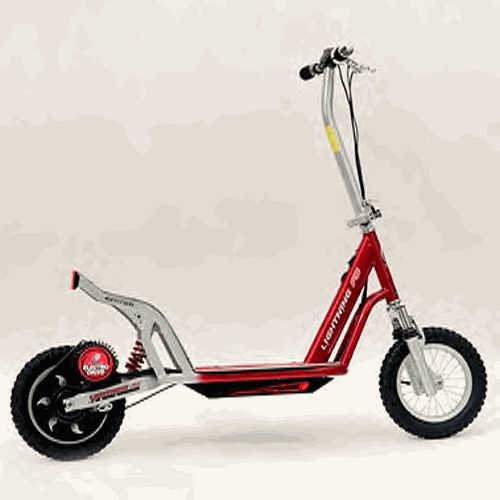 Specifications
Speed: 15 mph
Range: 8 -10 miles
• Motor: The new 400 Watt MAC finned Hi-Torque Electro Drive is a fully sealed, dust and weather resistant 24-volt brushless DC motor with built-in electronic pulse width modulated (PWM) controller that includes low voltage battery protection, motor overheat protection, stall protection, peak amperage protection, maximum speed protection and brake inhibit so you cant break and throttle at the same time.
Frame: Hi-Tensile steel and incorporates a one piece folding handlebar, one-piece deck and tail plate. On - Off switch and charger port on are located on down tube console for easy access.
Front suspension: Fork with 50mm of travel
Rear Suspension: Mono-shock Swingarm rear suspension with 90mm of travel.
Drive System: Currie Electro Drive System &endash; All weather direct chain drive, power on demand variable speed thumb throttle, freewheeling clutch for easy coasting.
Battery: Sealed Gel Lead Acid 24V 10 Amp Hours ( Dual 12V )
Charge Time: 4 - 5 hours
Battery Charger: 2 AMP smart charger, 110V AC input, self-regulated &endash;Fast charger available
Brakes: Alloy 3-finger MTB style lever, Front BMX V-Brakes & Rear 90mm band brake
Weight: 61 lbs.
Dimensions: Length 51", Deck Width 11" and Height 45 (adjustable)
Dimensions (folded) : Height 21"
Carrying Capacity: 250 lbs.
Tires: Kenda K-909 12" x 2.212" knobby or street tires with thorn resistant tubes
Battery: 24V, 2 of 12v-10ah