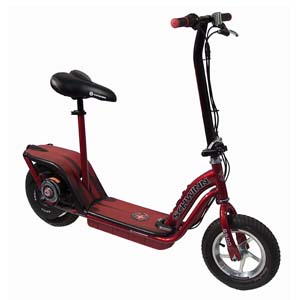 Specifications
Speed: 17 mph
Range: 8-10 miles
Speed: up to 15 mph*
Range: up to 10-12 miles*
Motor: High Torque 500 Watt, 24 volt, D.C.(Rare Earth Magnet). Motor casing provides better heat dissipation, semi sealed, dust and dirt resistant.
Controller: 24Volt/25Amp Pulse-Width Modulated Microprocessor with new self-diagnosis mode
Frame: Full Size. Durable all steel computer welded frame.
Carrying Capacity: 260 lbs
Deck: Wide, 9'', extra thick ABS material resists cracking, won't dent, rust or rattle
Control panel: features battery power indicator, power switch and charger port.
Drive System: Patented Currie Electro Drive - Chain Drive
Throttle: Variable speed twist grip with built in led power monitor.
Battery: Dual 12 Volt, 10 Amp sealed lead acid batteries in an easy to remove "Plug + Play" battery pack.
Expected Battery Life: 400+ recharge cycles.
Charger: 1.5 amp smart charger, 110V AC input, self-regulated. Led light indicate charge level. UL Approved.
Charging Time: 4-6 hours
Battery Box: Steel, Easy Access cover.
Brakes: Front linear pull with Alloy Brake Inhibit Lever
Tires: Innova Low Profile Street Slick Tires 12" x 3" with Tuff-Tire Technology, Elastomer Subtread reduces chances of flatting
Wheels: Impressively designed five spoke, 12" cast aluminum alloy "Mag" wheels.
Weight: 60 lbs
Deck Width: 9"
Battery: 24V, 2 of 12v-10ah Battery